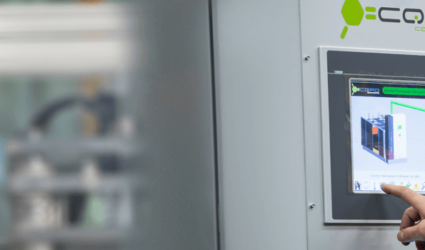 State of the art processes
High fibre content + Hight fibre adhesion
New generation of structural thermoplastic profiles
CQFD Composites is one of the first companies to believe in the future development of high performance pultruded thermoplastic composites. As a pioneer in the field of reactive thermoplastic pultrusion, our team has developed novel reactive thermoplastic pultrusion technologies for the production of structural composites profiles with extremely high content of reinforcing fibres which can generate strategic advantages in Construction, Transport, or Electrical applications.
Principles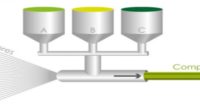 Structural reactive thermoplastic pultrusion technology is a high added value process developed by CQFD Composites to bring efficient composite solutions to mass applications
Step 1 : Proprietary formulation of low viscosity monomers combining catalyst, activator, additives and suitable fibers are introduced under pressure into to a pultrusion die.
Step 2 : The thermoplastic polymer is synthetized « in situ » among the fibers during the shaping step of the profile, under pressure and heat.
Low viscosity activated monomer (Caprolactam) turns into high molecular mass polymer (PA6) under the action of heat and catalytic agent.
This chemical reaction is sensitive to humidity and oxygen. As such, it requires suitable equipment's and well controlled process parameters to proceed efficiently.
Key Benefits of our reactive thermoplastic pultrusion
Oustanding mechanical performances
Our pultruded profiles designed with up to 85%w of fibres and combining an unprecedented fibre impregnation quality with the good bonding properties of a performance thermoplastic resin can generate outstanding mechanical performances including dynamic fatigue and crash resistance.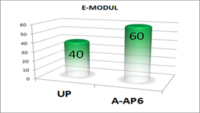 Stiffer than traditional thermoset pultruded material
With modulus ranging from 50 to 62 Gpa with glass fibres, the profiles obtained from our technologies outperform most existing composite materials made with glass fibres. It is roughly 1,5 times stiffer than existing GRP profiles.
Higher specific rigidity than aluminium

With a density of 2 comparing to the 2,7 of aluminium, our profiles made with Uni-Directional glass fibres are exhibiting higher specific rigidity than aluminium (ratio of rigidity over density)
Applications such as in window profiles can found an alternative with these novel materials.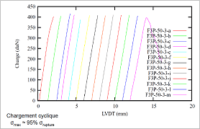 More resistant than steel
Using our technologies will allow making profiles with up to 25 times the resistance of standard steel grade at equal mass. Bending strength as high as 1500 Mpa and up to 2000 Mpa with special glass fibres is achievable.
Recovering initial position after dynamic loading cycles close to the ultimate load is also an ideal feature obtained with our pultrusion technologies for applications with strong demands in terms of flexural solicitations.
Reshapable

Unlike with thermoset, thermoplastic are deformable and can be post-shaped under heat.
This special characteristic opens new development routes when working with our profiles or semi-products.
Shaped profiles can be achieved by post-forming operation.
Overmolding
Our structural thermoplastic composite profiles are used as insert to be the structural "back bone" of injection moulded parts especially in the Automotive Industry. The combination of two processes can give birth to very cost competitive product as alternative to heavier and multicomponent metallic solutions.
Unique transformation step
Comparing to other thermoplastic pultrusion techniques such as film stacking or powder impregnation, reactive thermoplastic pultrusion is drastically reducing the number of transformation steps. Low viscosity monomers or oligomers combined with large tow low cost fibres are turning into state-of-the-art thermoplastic composite profiles with outstanding mechanical properties, all this in one unique transformation step !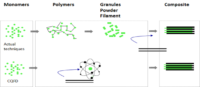 Cost competitive

Using lower cost monomers, large tow fibres and processing them at low temperature and low pressure with fully automated metering and injection unit brings cost advantages to the CQFD Composites thermoplastic pultrusion technologies.
Reusable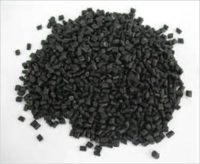 Our thermoplastic composite profiles can be grinded down into pellets and reused as "concentrate" in the plastic injection industry. Their high content of fibres well impregnated with resin makes them a source of valuable second hand material.
Depending on the resin choice, our technologies can lead to material which can be recycled by de-polymerisation process.
Styren free
Unlike traditional open bath thermoset pultrusion techniques, we comply with future stringent VOC regulation. A completely clean and resin free working environment is achieved through high-tech dosing and injection unit for a direct resin injection into the pultrusion die. You will never see the resin !
Friendly handling and machining
Our profiles will also fit with your environmentally friendly approach of new product developments.
Unlike thermoset profiles which generate very small and volatile dust particles, our thermoplastic profiles create larger agglomerates during cutting or drilling operations. These larger agglomerates are much less irritant to the workers and much easier to filter.

Industrialised process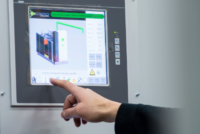 CQFD Composites proposes turnkey advanced thermoplastic pultrusion lines with automated resin dosing and injection unit. The complete line is operated by touch screen panel and full monitoring is accessible from one control station unit with key parameters recording.