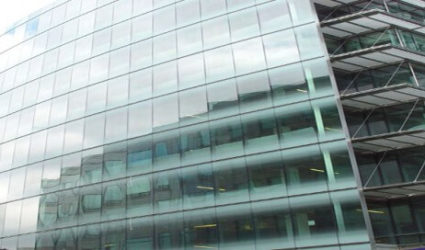 Engineered for the building industry
To meet the future thermal insulation of several customers within the Building Industry, our team is working on expanding our range of performance thermoplastic composite material obtained from the pultrusion process.
=C–GLASS® is a pultruded thermoplastic composite material with extremely high fibre content (up to 65% by volume) combined with a thermoplastic polymer of high rigidity and exceptional UV resistance designed for window and outdoor building applications.
=C–GLASS® material range exhibits high stiffness and strength combined with low thermal conductivity, great UV and weather resistance; a perfect combination to engineer new profiles as alternatives to aluminium frame in large window applications.
=C–GLASS® is still under development. Customers wishing to be involved in such work could get a privileged access to this novel material in their respective markets. Do not hesitate to contact us for more information…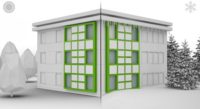 Keys benefits of =  C–GLASS® :
=C–GLASS® profiles made with glass fibres are exhibiting higher specific rigidity than aluminium (ratio of Rigidity over Density).
This means a profile can be designed with =C–GLASS® at equal material weight for a superior bending rigidity.
=C–GLASS® profiles will be 500 times more thermally insulating than the aluminium one. This feature offers new design possibilities as alternatives to traditional aluminium thermal bridge concepts.
With a thermal dilatation coefficient as low as the glass panel itself (5 times less than aluminium), the =C–GLASS® profiles will lead to a better global thermal efficiency when used in window construction in a cold or warm weather environment.
Comparing to traditional polyester profiles which are emerging in some countries for window applications, our new generation =C–GLASS® of UV stable thermoplastic composite profiles will outmatch the durability of such thermoset solution.
Applications : Windows
Many diverse markets will benefit from =C–GLASS®, our high rigidity and UV stable thermoplastic pultruded composite material.
With =C–GLASS®, different product configurations in window lineal can be efficiently addressed as well as in solar energy panel construction.
In the window industry, the sustainability of =C–GLASS® is another key factor.
From production to handling, machining as well as for End of Life Waste management, =C–GLASS® offers environmentally friendly alternatives to thermoset composites:
0% styrene
No very fine dust from cutting but only bigger agglomerates
Reusable after grinding in the form of pellets for injection moulding
Recyclable from depolymerisation process of the polymer